Weird Request
Back sometime ago, I got a very weird request via personal message from a fellow forum member in Lowyat.net. I really cannot believe that I received such request. Asking me to scan my Diploma cert! O______________O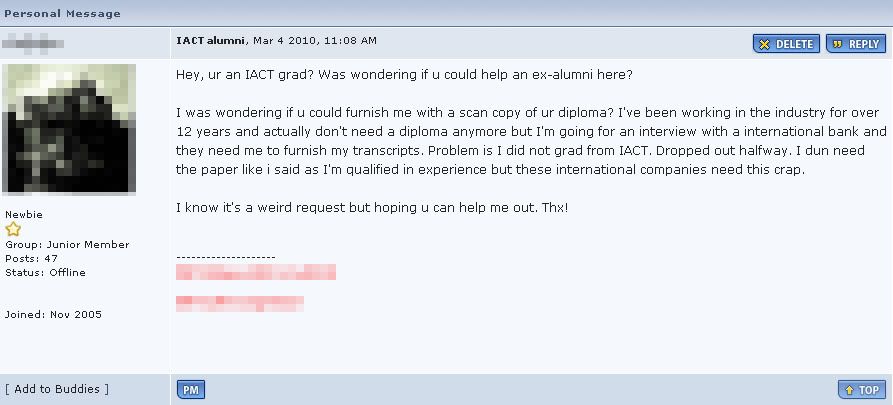 *Click to read*
Or if you are lazy to read, HAAHHAHA. Bolded out the important points nicely. :D
Hey, ur an IACT grad? Was wondering if u could help an ex-alumni here?




I was wondering if u could furnish me with a scan copy of ur diploma? I've been working in the industry for over 12 years and actually don't need a diploma anymore but I'm going for an interview with a international bank and they need me to furnish my transcripts. Problem is I did not grad from IACT. Dropped out halfway. I dun need the paper like i said as I'm qualified in experience but these international companies need this crap.




I know it's a weird request but hoping u can help me out. Thx!
To cut the story short, he wanted me to scan my Diploma certificate from IACT College so that he could use it to attend his interview with an international bank.
I think it IS a very weird request, as if he did not graduate, it will NOT be in his resume when he sent to it to the international bank when he was applying for the job. Thus, the bank will look only at his 12 years experience and not request for his transcripts. If he put that he graduated from IACT College, then it's only true that he lied to his future employers that he DID graduate.
And now when the transcripts and certificates are needed, he need to find someone that will willingly scan it for him, which unfortunately, I am not willing to. Furthermore, he called the piece of paper, which I own 'crap', I am not even convinced to fulfill his request.
Who knows what the paper is going to be used for. And with a scan copy, can he replicate the true certificate out? To me, he should not even put that he graduated and just convince the company that he is capable because he has 12 years experience.
If you were in my position, will you fulfill the person's request? I did not reply him though, but I am very curious how he went for the interview. This was sent to me early of the month actually. =/