My Top 5 Treat List
Nothing extravagant, just 5 things that would make me happy for a looooonngggg, looooooonnng, loooooooooong time. :D

Thus, in no particular order. But the
last
one is the most important!
A
new phone
, cause I
injured
my old one. TT_____TT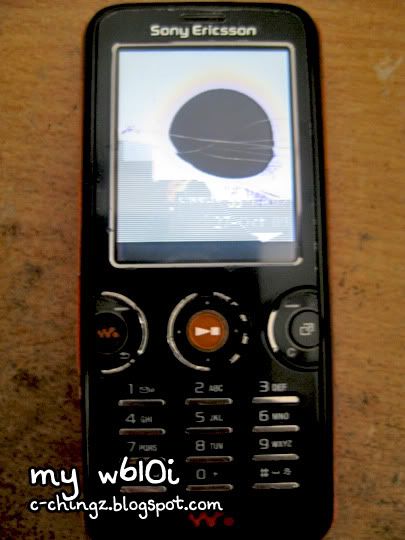 His face has a full moon already! T_____T Thus, not that I will forget this husband, it is time to get a second one! This will be put into my drawer as remembrance. :D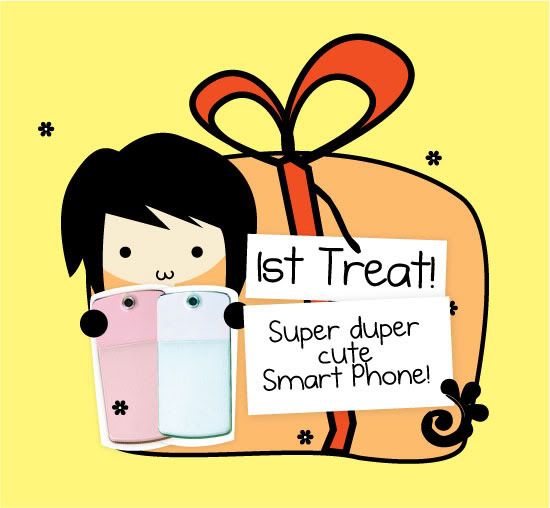 A super cute Smart Phone so I can Twitter, Facebook, WLM, check mails, all at the same time! Now how I wish I could design with it as well. :D And since it's smart, it could lead me to places as well kan? As my sense of direction sucks.
It needs to sync well with my last most important treat as well, which is a Dell. :P
I've always liked this brown thing in the middle named Domokun; I love his expression! RAWR! I have two mini ones of them, one no shirt, and one, he's wearing a Tanglung! Tell me, cute or not cute or not? :D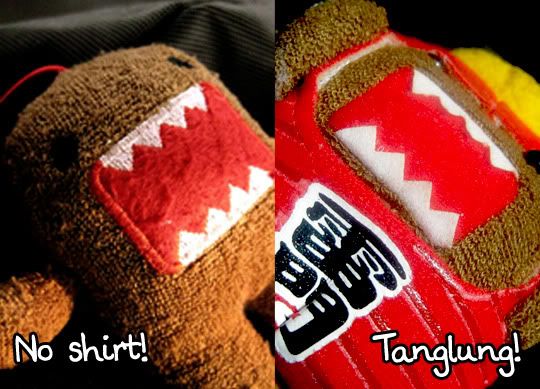 So what would I really really want to
treat myself next
would to own a
GIANT DOMOKUN
! :D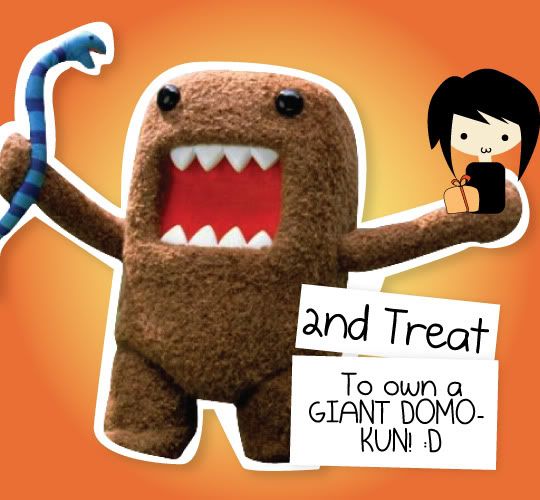 I hope to take pictures of him and put it as my future Dell Inspiron Mini 13 laptop wallpaper! :D
Since I started watching anime when I was Form 4, my dream place to go has always been
Japan
. I know it's weird, but I learn so much about Japan through Animes! Their festivals, their lifestyle, their culture, which makes me wanna go there even more! My love for it grew after watching Japanese dramas and ogling at their bands and JPop. :P
The
next treat
that I want; is something really impossible! Really impossible until I'm laughing when I write about this. :D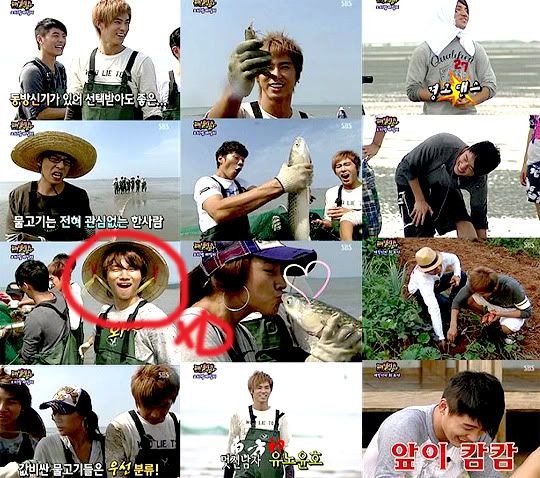 I'm an avid fan of
Family Outing
, a Korea Variety Show which features Korea celebrities and their guests playing and working at the countryside. This show is the funniest! :D And it features one of my favorite Idol in Big Bang, Daesung, as circled in Red. >___<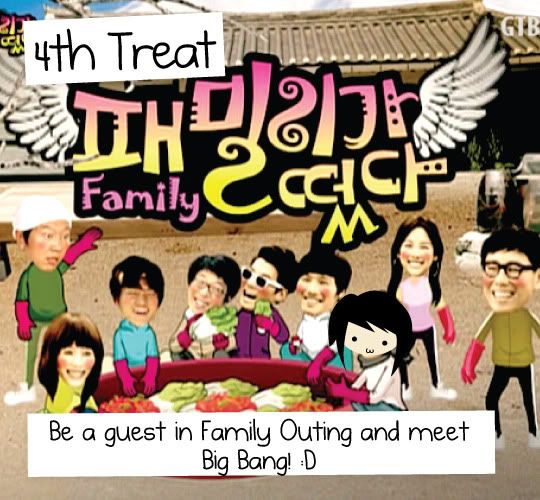 Bwahaha! Time to buy a flight ticket to Korea! :P
The
fifth treat
, and most important one; would definitely be a new laptop for my everyday use. I cannot live without one, as I blog, I twit, I Facebook, I design, I Youtube, Animes, Dramas, without it, I don't know what to do. O_O! Was looking out for options for my last treat, and finally I decided.

It had to be this,
Dell Inspiron Mini 13
. It's so pretttttty! Look at the colors! I'm someone who emphasize a lot on designs and colors when it comes to packaging, things I buy etc. Many many reasons why I would want it most to treat myself: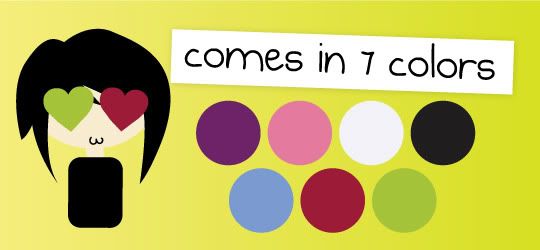 Looking at the
7 colors
that Dell offer, I can't decide between Green or Red. T_T Which one leh?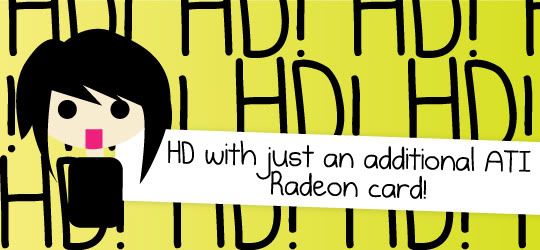 HD! HD! HD
! Family Outing! Love Letter! Xman! Bleach! Naruto!
HD
AHHHHHHHHHHHH!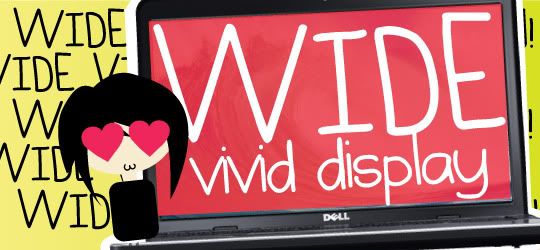 Wide Vivid Display
as well; DOUBLE AHHHHHHHHHHHHHHHH AHHHHHHHHHH!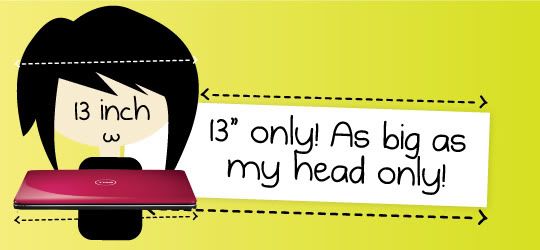 Another reason is that it is only
13"
! Jeng jeng jeng, I don't think I'll hurt my shoulders when I bring it everywhere. :D
But the greatest reason to treat myself with a Dell Inspiron Mini 13 is to
replace my current, faithful Dell Inspiron 6400
.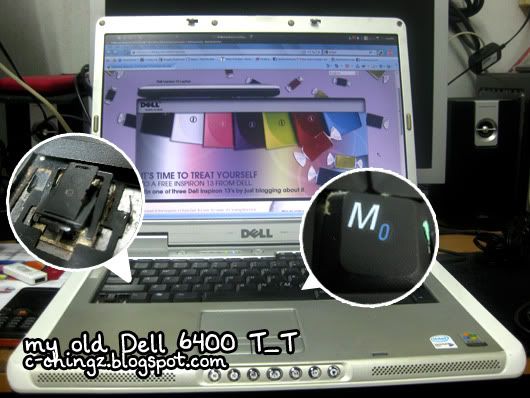 I've been using this first laptop of mine, Dell Inspiron 6400 and it's still going strong till today. Have not format it at all, and it's still usable. But I think I sort of overworked it, and it sorts of broke down appearance wise. T_________T In other words, very ugly adee. T________T
Once a Dell, forever a Dell! :D
P/S: Dell have something installed for everyone as well.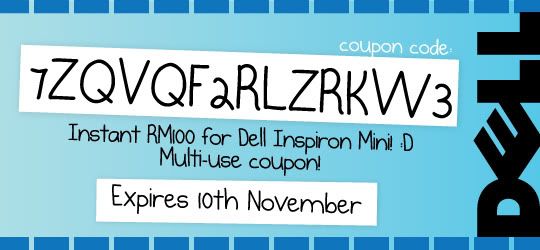 Coupon Code:
7ZQVQF2RLZRKW3
.
Only available through
online
or 1800 88 0301. :D Don't rush to Lowyat Plaza with this ya? 1 more week left!
Have you
Dell Inspiron Mini 13
yet?