Firefox Rebelled :(
Switched on my laptop, and to my horror. Firefox rebelled on me. It seems that he, or is he a she? had enough of my current connection and he does not let me to surf the net! Only displaying the same note to me over and over again no matter which site I goes to.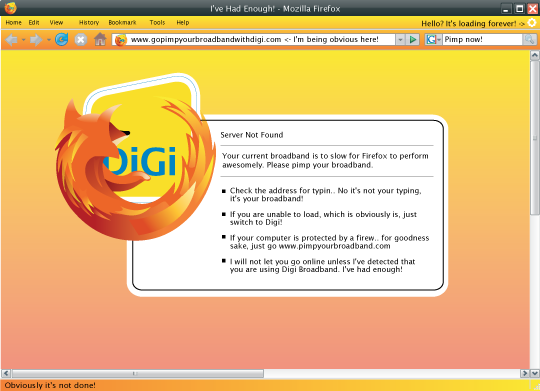 Look at the messages Firefox is leaving me!
"Your current broadband is too slow for Firefox to perform awesomely"



"Hello? It's loading forever!"

"If you're unable to load, which is obviously is, just switch to Digi!"
It's very frustrating
Digi
. Firefox only wants you. Without you, I won't be able to Twitter, Facebook, blog,, download animes, watch Youtube, so many things! I'll be disconnected from the internet world forever if I cannot win this.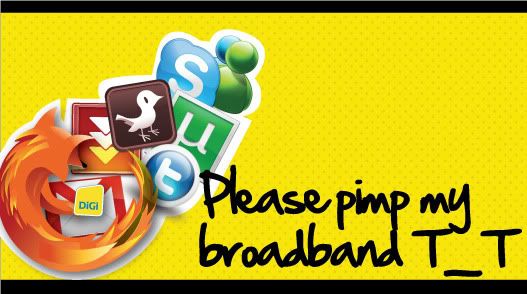 He even took the liberty to make my Tweetdeck, Utorrent, Windows Live Messenger and even Skype to stop working unless I get Digi Broadband.
It's the horrorrrrrr! What am I going to do?
Please please let me win
Macbook Pro
the Digi Broadband
so I can gain control over Firefox again, and recover all my other applications that keeps me connected. :(
Help me
here
! Need.more.thumbs.up T_T
P/S: He's only giving me 5 minutes to post this to you, I'll be disconnected any minu..